As the four big fashion weeks are about to wrap up, we discern key themes like leather and ruffles that dominated throughout the season, while there are some, which made small but very concrete appearances like space age prints and large statement pockets.
Last year, every designer was throwing back to the seventies and hipster styles, but this season, from mad metallic to power suits, inspirations are loudly rooted in the eighties. Fashion may not be as 'hot mess' as the eighties are famed for, however, references to a post-punk wave mixed with aspects of mod culture and evening glamour are positively apparent in every city.
While some trends may have carried over from pre-Fall or even the spring collections, it is clear that they have found optimum sartorial ground only within the Fall 2017 collections. Take for instance, flared pants from last season ensued into oversize trousers this season, falling in line with the season's biggest trend – blown up proportions. As silhouettes get bigger and fabrics get more comfortable, details like pretty lace collars, dancing friendly fringes and old school checks keep our hearts singing.
Here are the key details and silhouette trends curated from the women's ready-to-wear collections for Fall/Winter 2017.
In-depth Details
Out of Space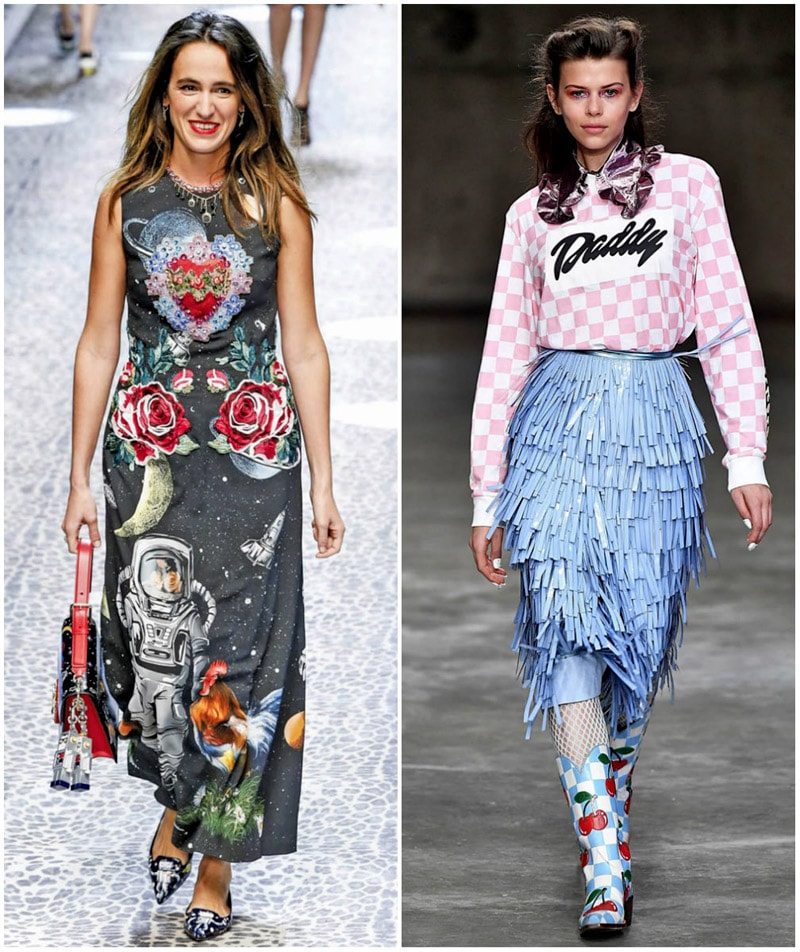 While men's collection for the season might have thrown some strong post-apocalyptic vibes, womenswear is reaching out for the stars. As life on earth gets especially irrational for everybody, designers are looking for life in space to get inspiration for their garments. Christian Dior's collection with its many shades of blue and embellished galaxies seemed to have been created a life for itself on the moon. Dolce & Gabbana and Christopher Kane showed prints packed with extra-terrestrial planets, UFOs and an astronaut. Gucci made a spaceship literally giving life to flowers in a very Gucci-fied take of the print.
Fringe Party
The playful trend that raged from the '70s rock n' roll to the '80s disco parties, is not just for the rock star's leather jacket anymore. The flounce in fringes allows it to transcend from bohemian to flapper so easily that it remains a go to trend season after season. The style that is always boomerang ready is getting a makeover in larger variety of textiles like wool or even just strips of fabric. Emilio Pucci and Rochas created party-ready dresses using beaded fringe. MSGM and Zadig & Voltaire gave a go at woollen fringing while Michael Kors like many others stuck to acing shredded leather.
Heritage Checks
Checks endure their hegemony over everything this winter and traditional styles like tartans, gingham or glen plaids are raining all over. Although the silhouettes that these checks are played upon are far from customary, the print continues to take reference to the Western countryside in its format. Vivienne Tam used the check on restructured tops; Gabriela Hearst did not shy away from the boyish tartan on a double-breasted pantsuit creating a business-savvy look and Adam Selman fashioned a supremely feminine looking maxi dress in shadow checks. Nevertheless, for anyone looking for outerwear options, Aquilano Rimondi's overcoat or Fay's suit jacket do not disappoint either.
Monster Pockets
There is an intense political history behind the lack of good pockets in womenswear. It was an archaic school of belief that women did not need pockets because they were not doing anything important enough outside the household. Nevertheless, seeing how women are on their way to change the world, designers are finally giving them the big utilitarian pockets they deserve. To make this statement as clear as they can, brands like Zadig & Voltaire and Simone Rocha made gargantuan protruding pockets while Armani and Calvin Klein used contrasting colours to make them stand out.
Razzy Ruffles
As much as we love clean lines, we know that nothing is more joyful than a frolic wave of ruffles to liven up any outfit. The inherent architectural quality of ruffles adds a fancy dimension to anything without looking too gaudy or overdone. The fact that femininity is taking the centre stage in fashion just means that the playfulness of ruffles and frills is here to stay. Monse inculcated ruffles to rework shirting options and Saint Laurent went leather crazy creating oversize frills cascading all over the body. Ulla Johnson made a weather appropriate cape in woollen ruffs, while Molly Goddard took the metallic route in a green A-line dress.
Major Silhouettes
Jumpsuit Wagon
Utility is clearly in vogue and designers are looking at overalls to reference workwear clothing for women's collections just as they did for menswear. With co-ordinates and suiting becoming major hits, it is easy to establish that people are favouring stress-free looks that do not require a lot of time to put together. Julien Mac Donald and Lanvin created glamorous jumpsuits, while Adam Selman and Joseph stuck to the silhouette's relaxed uniform appeal. Alexander Wang moved into the purgatory of sexy with his black skin fitted offering and Gucci continued their eccentricity in hot red.
Double-Breasted Suits
The double-breasted suit is not just for bankers from the eighties anymore. Pantsuits are massively trending in womenswear, which has resulted in many variations given to stricter suiting styles, and the relaxed many-buttoned suit is just an upshot of the same. Wearing a suit does not have to only mean business anymore, the new version is as sophisticated as it is stylish. The fluid suiting pieces from Zimmerman in monochrome pinstripes, Teatum Jones in woollen grey as well as Bibhu Mohapatra's velvet set made a strong case in favour of the silhouette. However, La Perla and Ermano Scervino are also here to serve anyone looking for more tailored options.
Wide-legged Ladies
The skinny jeans have been pronounced 'dead' for quite some time and its replacements have been coming and going. While last season, the transition from skinny to wide-legged took place by adding a little flare; this season, the switchover is in full effect. The raging trouser trend is loose and extra-long making it appear super fluid as a silhouette. Available in everything from mostly high to some low waist options, wide-legged trousers were seen on the runways of Lemaire, Dries Van Noten and Chloé. While not everyone experimented with fancy hues, the ones who did like Jil Sander and Paco Rabanne, definitely stole our sartorial hearts.
Crop or Drop
Fashion is always trying to break boundaries; an illustration of the same is season less clothing that doesn't just mean that consumers get to use a product year-round but also that there is a reduction in the wastage of products. A fitting result is the transition of crop tops into winter via crop sweaters and jackets, which are functional without foregoing the chicness. While Off White created plentiful crop jackets in different fabrics, oversize crop sweaters from Brandon Maxwell and Tods also looked insanely comfortable. To make the trend even more interesting, Lorenzo Serafini added tassels to an off-shoulder sweater and Rick Owens made a cropped sweatshirt disrupting the whole fashion system.
Cape Coverings
This season's main mantra is that bigger is always better and what is a better embodiment of the adage than larger than life cloak like outerwear. Everyone wants to look like a superhero out to save the world. As a result, structured clothing is being eschewed to bring in easier and freer flowing silhouettes where comfort is crucial. From Gucci and Rick Owens who added slit sleeve to their bellowing overcoats to Sies Marjan and Bottega Veneta who literally wrapped the trend and the models in a big blanket, capes are proving to be the desperately needed comfort in fashion.
Industry Take…
Rashmi Dogra, Fluke Design – "I believe that the sizes of the season are presenting themselves in extremes. So either we are doing miniature versions of previous styles or we are going supersized with them. Leather is easily the favourite material for winter and we are working on it in a variety of solid colours. Details like fringes and tassels never go out of style and yes, we are doing quite a lot of them this season."
Tanya Sukhija, Colourful Collection – "The silhouette is definitely screaming for larger proportions in 2017-18 collection. Capes in outerwear and big, balloon sleeves are a result of the same. Sleeves especially are bearing the main effect of this trend with really long and bulky shapes. Even in trousers, the trend is for wider fit and ankle lengths. We are also planning to work on jumpsuits, perhaps not this season but surely in the next one. Though our collections are concentrating more on strong colours like pink, orange and lot of green, we are adding plenty of checks and stripes into the mix. I have observed that contrary to crop tops, a lot of off-shoulder or longer length styles are being preferred this time."
G. S. Batra, Maharani International – "We are doing a lot of florals and big checks in terms of prints. For trousers, we do not think the ready-to-wear market is looking at gigantic proportions but the silhouette is definitely more loose and wider this time. Pockets are also becoming a very visible part of detailing and we are doing a lot of variations in bigger, statement pockets."