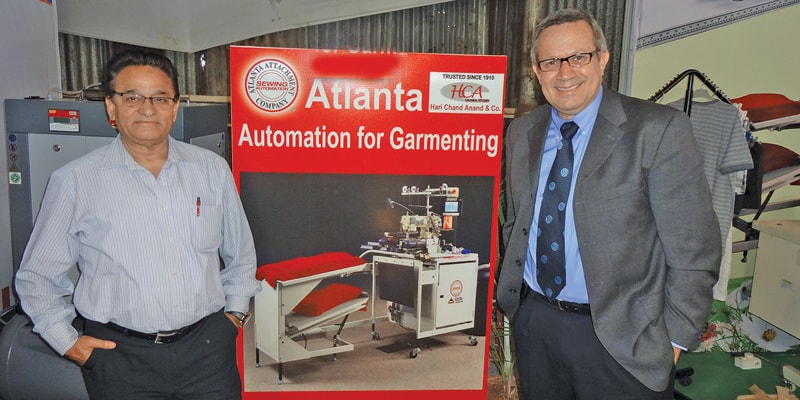 "Largely unaffected by demonetization, the last six months have indeed been very good for Tirupur, and which should continue for one or two years more. This is because a lot of work has been shifted from other countries, and most of this work has gone to Tirupur. Basically, garmenting is a volume trade and there is nothing better than knits for volumes. Also, exports of knitted garments are growing from India, and Tirupur exporters are going in for new machinery and advanced technology to stay competitive," says Anil Anand, MD, HCA, one of the participants at the recently concluded 14th edition of Knit-Tech, a thought which is echoed by many other technology providers/exhibitors. The event witnessed latest technology in circular and flat knitting, stitching, dyeing as well as advanced cutting room solutions and hanger systems… Team Apparel Online talked to many of the exhibitors as well as visitors to get latest feel of Tirupur.
Carrying forward this positive thought, other technology suppliers added that day-by-day there is more tilt of manufacturers in the knit city towards automation and even new product categories. Eugenio Fonts, VP, International Sales of Atlanta Attachment International Inc., US shared, "India is the most important market for us in Asia and even within India, Tirupur is showing great interest in next-gen automation." This five-decade old company already has clients in Tirupur and is looking to add few more clients soon. Interestingly, unlike the last editions of Knit-Tech this time there were nearly dozen companies displaying flat knitting machines (full as well as semi computerized) and a segment of industry is also of the opinion that Tirupur is moving towards woollen garments rather than focusing on tees or summerwear.
The circular knitting segment saw visitors taking interest in high-end technology. "Our target is to focus only on top segment or the knitters who are willing to invest in good/high technology as Terrot does not have any economy model of circular knitting machines. Beauty of Tirupur is that it has sustainable business and people are happy with the business. I am sure that Tirupur exporters will convert the opportunities into orders as whatever is happening in Bangladesh and Vietnam is in favour of Tirupur. We will see multifold growth in Tirupur in coming years," says KM Nizar Ali, Business Head – Post Spinning Textile Machinery Division, Voltas Limited, which represents the Terrot machines in India. These machines have focus on productivity and utility side along with fibre knit technology. Timo Schramm, Area Sales Manager of Mayer & Cie, Germany added, "Along with our other models, we see great potential for our HPI interlock machines which can handle 100 per cent cotton. Many visitors were keen to know about the same." Gianpiero Valsecchi, Sales Area Manager, Santoni SPA, Italy was of the opinion, "Starting from January we are getting good orders even more than our expectations; Tirupur is waking up after a gap of few years in depression. There has been good demand in this exhibition and customers are willing to invest, so Tirupur will take the lead again." As far as demand in circular knitting machines is concerned, overall Jacquard as well as interlock, single jersey for open width lycra in 28 gauze seems more in demand.
The visitors, which included exporters, domestic manufacturers, buying house and new comers to the industry, or companies depending on job work are now willing to have their own manufacturing, were all enthralled by the variety of technology and solutions on display. Interacting with them made it obvious that the apparel industry of Tirupur (MSME as well as big companies) is investing in different areas; like SP Apparels recently invested in 3D sampling and is saving a lot of time and resources by this. Gaiety Fashion is adding embroidery, printing and knitting machines. Dutch Blue Fashions is adding new factory which is spread in two acres and will add 150 machines initially. Syndicate Impex is also adding more than 100 stitching machines. Push for expansion is coming from the growing demand as well as new clients of some of the above-mentioned exporters. Some of the companies are not expanding on manufacturing front but adding new markets with them like Selven Lifestyle, currently exporting to US market, is again entering into domestic after a long gap. Paras Dyeing & Printing Mills is also expecting good business for its Tirupur-based manufacturing unit. The team of the company was looking for printing machines at the event. Purnima Yadav, Deputy Manager – LOB Fashion, Future Retail Ltd., who is sourcing from Tirupur, shared that the company will increase its sourcing from Tirupur as its vendors are increasing their capacities. "I am visiting the show to see how technology displayed here can reduce lead time in regards to sourcing from Tirupur," she added.
Not only Tirupur-based companies, but even visitors from other cities were also positive of growth. ARS Exports/Erode Impex, Erode is expanding its fabric manufacturing as it is adding new overseas markets. Mandava Cotton Mills, Vijayawada having 15,000 spindles is also further investing in 15-20 circular knitting machines with an investment of Rs. 4 crore. "Out of total 110 spinning mills in Andhra Pradesh, most of them are further investing in weaving but we feel that knitting is better option as it does not require any preparatory process. Marketing of knitted fabric is also easy," says Sridhar Mandava, MD of the company. Gourav Agrawal, Operations, Bewakoof Brands, Mumbai (bewakoof.com) explored all kinds of technology as the company has in-house manufacturing from last two years. Captain Niranth Bymana and Captain Chethan YK (both retired) of Olive Planet, Bangalore, offering premium military gear were exploring mainly stitching machines as the company is planning to start apparel for the defence sector.
The first day of the event was quite slow and lacked on preparation level, but in the next three days the fair witnessed good number of visitors from other hubs of India too.
Many technical professionals observed interesting technology at the exhibition. One of them, P. Arumugam, Manager – QA, Colorsburg (Shakthi Knitting) liked one of the processing machines which requires less water compared to others. According to him, padding machine, which helps during bio wash to remove the fibres inside the fabric, was another interesting machine. The company is having capacity of one lakh pieces (basic garments) per day.
"We are successful in making this event (spread in an area of 2 lakh square feet) truly worthwhile even from the point of view of international visitors as many delegates from Ethiopia and Sri Lanka also visited the event. We tried to give complete solutions – from cotton to packaging – in this event. Next year we hope to have visitors from some other countries too and so shall have some pavilions from these exhibiting countries also. Many visitors from northern and western parts of India are an additional advantage for the exhibitors." – M. A. Rayappan, Chairman, Knit-Tech