India's export of knitted items to US and EU markets noted a surge of 4 per cent and 10 per cent, respectively, in the FY '14-15 and the surge continued in FY '15-16 as well. Ludhiana, Tirupur and Delhi-NCR are the few names in knitting hubs in India that are growing at a fast pace but have still not reached the potential to achieve excellence in terms of high production and automation. In a market where there are many circular knitting technology providers and every company stands by its product's quality, performance and longevity, it is hard for the buyers to make an informed decision for their business and invest in a particular technology. Such kind of scenario was observed in two of the industry's biggest knitting technology trade shows – KNIT-TECH 2017 in Tirupur and GMMSA Expo India 2017 in Ludhiana where both local and foreign machine providers were present to impress the potential customers with the latest features of the machines. Team StitchWorld talked to key technology providers at these fairs and brings to you an amalgam of technical superiority offered by these technology providers.
At the onset, technology providers unanimously agree that a renewed interest in Indian knitting hubs can be observed and all of them are very upbeat regarding the growth opportunities. Knitters are looking for high quality and high productivity machines, and in particular single jersey jacquard machines which are more in demand.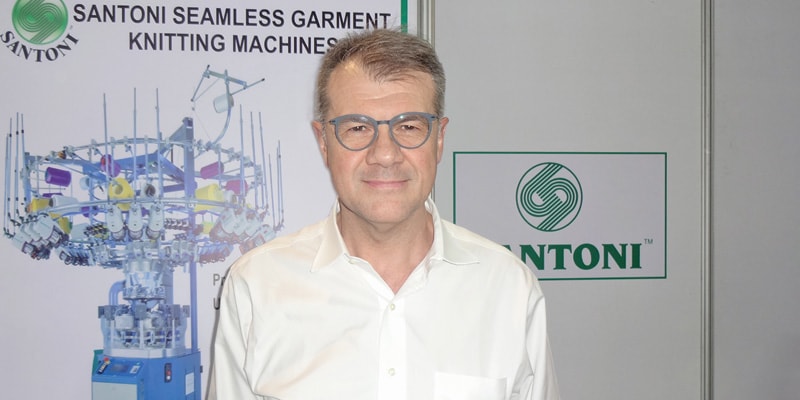 Santoni presents tubular and open width knitting machines…
Italy's Santoni, the leading knitting machinery manufacturer for seamless wear, deals in single jersey circular knitting machines and was seen promoting knitting machines by Quanzhou Jingmei Machines Co. Ltd. at the fair (KNIT-TECH). Starting with an optimistic vibe, Gianpiero Valsecchi, Sales Area Manager, Santoni SpA avers, "Tirupur is waking up after few years. I can see good demand in the market and customers are finally willing to invest. These steps will again give it a lead in the Indian market," adding, "We are currently focusing more on electronic jacquard machines." The company offers the JXP series of single jersey circular knitting machines with 44-inch diameter having 6 feeders per diametrical inch and 32 gauge with speed of 40 RPM. Running at a speed of 30 RPM, the open width single jersey circular knitting machine features strong inter-convertibility in terms of conversion compared to terry or fleece machine. The machine allows production of mercerized cotton, double lacoste mesh fabric, striped fabric, and many more specialized structures.
Vanguard Pailung offers its fastest and highly productive machines…
Having existence since 1977 and being a pioneer in circular knitting machines, Pailung presents its single jersey four-track three-end fleece circular knitting machine – PL-KF3B-LP, which is customizable and easy to upgrade. The customer can make both cotton polyester and poly fleece fabric in the same machine. "It can yield production of 500 kgs of fabric in a day (24 hours) and loop length of 18 cm due to the wire bearing system and gear system. It does not spill out the knitting oil into the fabric," says S. Govindaraju, GM – Service Department, Yuvraj Merch-X (agent of Pailung in South India). The new Knitel series oil-based frame can stand up to heavy duty material for even 45" diameter fabric roll and it ensures that the needle oil and gear oil are absolutely separated. The circular knitting machine comes with 34-inch diameter having24 gauge, running at a speed of 24 RPM. It is equipped with 6 cam tracks which not can only knit plain fabric or basic polyester knit fabrics but can also use 6 track cam arrangements for more complicated patterns, like mini jacquard fabrics for modern sports and leisure garments.
Claiming its machines to be the fastest in the world, Vanguard pailung single jersey knitting machines yield high production that offsets the factor of higher price than its competitors. The model SJ4A/T13 with a diameter of 34 inches and 28 gauge runs at a speed of 57 RPM in single jersey and has 102 feeders. "Our sinkers are inclined, facilitating less stress on yarn and enhancing high speed of machines. The width of the needle is 4.5 mm latch, thus requiring minimum height to clear the needle, resulting in high speed and fabric quality at par with our competitors," shares Yogesh Agrawal, Director, Knitrite (Indian representative of Vanguard pailung).
The company's another model SJ3A/T with a diameter of 20 inches and 24 gauge runs at a speed 90 RPM in single jersey and has 80 feeders. "The company is expecting 100 installations in the current year despite its high cost," confirms S. Govindaraju, GM – Service Department, Yuvraj Merch-X (agent of Pailung in South India)
Ramana International stressing on power saving…
Having served for a decade in the knitting industry, Ramana International is recognized as a reliable supplier and importer of various types of knitting machines located at Ludhiana, Punjab. It offers a qualitative range of products such as fully computerized flat knitting machines, fully computerized jacquard knitting machines, circular knitting machines, high speed universal single knitting machines, high speed single lycra knitting machines, single jersey open width knitting machines, high speed universal double knitting machines, and more. Ramana International's single jersey knitting machine D/4 with a 50-inch diameter and 32 gauge, works at a speed of 28 RPM. Because of this large diameter, its output is 50 per cent higher than the normal knitting. "We use feeders and cams of good quality. Cams usually degrade after getting scratched but our cams are made of good quality steel which remain functional for 3-4 years," says Parmesh Wassist, Director, Ramana International. The weight of the machine worth 3,000 kg ensures stability and less vibration, and thus the cams do not get hot. Parmesh also informs of using 5 ½ hp motor to gain on the factor of energy saving. Usually 7 and 7 ½ hp motors are installed in conventional circular knitting machines.
KP Exim shows its latest computerized jacquard knitting machine…
KP Exim is focusing mainly on the shawl industry with their latest display – FDC Series. These double computerized jacquard knitting machines use computerized selectors to select needles in the cylinder with the 2-way or 3-way technique of knit, tuck and miss, which can produce fabric with different patterns without limitation. Any intricate pattern of fabric can be converted via computerized pattern preparation system into the special control command which instructs the selector to make jacquard fabric. The technical specification of the machine includes cylindrical diameter of 42 inches, with 32 gauge and 84 feeders. The precise encoder can accurately calculate the needle position and zero-point calibration to ensure stability.
Golden Falcon introduces special alloy steel cylinders in LKM circular knitting machines…
Golden Falcon represents a Taiwanese brand LKM Precision Machinery for the customers of circular knitting in India. LKM is one of the best known company for terry towel machines. The company's two newest models are single jersey circular knitting machines and body size knitting machines. Single jersey circular knitting machines use 4-track and have the feature of short separation and easy adjustment. "Its cylinders are made of special alloy steel from Japan, with particular thermal treatment and increased durability. The highlights of the machine are needles by Groz-Beckert, sinkers by Kern Liebers and an automatic oiler," informs R.S. Kalidas, VP, Golden Falcon India. With a diameter of 40 inches, it has 120 feeders and is of 32 gauge. Lee Hsueh Chih, Manager, LKM is expecting 100 installations in Tirupur this year.
The other model, which is a body size knitting machine, has a diameter of 21 inches, 63 feeders and 28 gauge. A heavy strong body and a low-power efficiency inverter are the main attractions of the machine. The company claims to have 20-30 per cent more production compared to other machines due to the heavy body of the machine.
WellKnit Enterprises to manufacture in India…
WellKnit Enterprises, suppliers of circular knitting machines of Taiwanese brand WellKnit Machinery Co. Ltd. brings to India WM-XLS-A with a 22-inch diameter having 3 feeders per inch. It can knit fabric of 32 gauge and is suitable for pure cotton, real silk, and artificial fur. "We especially developed machines for Indian domestic customers. These high-speed machines come with 2 track cams to produce pique and lacoste unlike other machines which can only produce single jersey, and therefore these machines give more design options to users," says G. Muralidharan, General Manager of WellKnit Enterprises. The company is now planning to manufacture these machines in India in the coming months.
Narinder International brings faster version of Senher machines…
Narinder International is serving the industry since 1987 as distributors of circular knitting, dyeing, finishing and related textile machines in India. The company markets single jersey circular knitting machines by Senher Precision Machinery in India. The earlier version of the machine provided a speed of 25-26 RPM, but the latest versions of the machine run at a speed of 35 RPM. It has also improved the machine's oiler as well as improvised metal. The SHS180 model features a central adjustment system to adjust the fabric in different GSM easily. It has a 42-inch diameter with 252 feeders and 28 gauge. "It enables the customer to knit different kinds of high quality single jersey fabric with lycra. With an extra conversion kit, the customer can knit terry fabric and fleece also," shares Narinder Kumar, MD, Narinder International.
VRIMS International markets Yulin, a stable machine
A new entrant in circular knitting machines market, Yulin, represented in India by VRIMS International Inc., has come up with YN-S model for Indian market. This is a high precision single jersey, fleece and terry circular knitting machine which does not vibrate while running at high speed, ensuring greater stability of the machine. The machine has a 44-inch diameter, 264 feeders with 6 feeders per inch and can produce 44 gauge fabric. The needle cylinder and mono-block cam system use special steel, which is precisely processed and has excellent thermal treatment. Raman Sethi, Managing Director of the company states, "Currently we are targeting basic segment in circular knitting machines. In future, we will add more advanced machines in our portfolio."