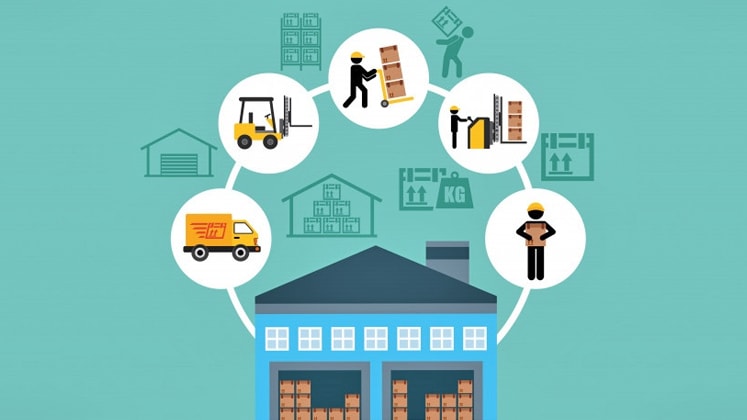 Ever since multichannel and omnichannel retailing have increased their footprints in the fashion industry, the brands have been facing complexities managing retail operations. Different platforms and a balanced inventory have become one of the crucial aspects for the retailers to seamlessly perform their businesses and provide customer satisfaction.
It's important for them to have the right amount of inventory, so that they don't run out of stock or have extra inventory, both of which can cause losses to the retailers. Technology is a saviour to the complexities and challenges of today's time as it can ease out the process for the brands fetching them greater profit and high level of customer satisfaction. 
Managing a balanced inventory is not just related to cost associated with the goods, but is also connected with other features like customer relationship management and a sustainable environment. The shortage of a style or a product can immediately leave a customer disappointed, while excess inventory in the warehouse is often discarded in the landfill. In both cases, brands have to invest an extra amount in either getting the order made by the manufacturers on an immediate basis or selling the unsold products at heavy discount.
It has become a mandate task for the retailers to tap their customers through their convenient location, for which it's important to have a strong presence in all channels, be it online, shop-in-shop, MBOs, EBOs, etc. It's important for brands to have transparency of the inventory so that it can have better management of resources.
However, these complex structures and large volumes need special systems that can simplify work in a matter of time, across the network spread in different locations for which it is necessary for them to invest in a technology that meets the specific needs of the brand. Which technology to choose is often the most doubtful question that any retailer asks before investing in technology. Let's figure out…
Vin eRetail: Vinculum
Vinculum Solutions Pvt. Ltd., headquartered in Noida (India), is a leading SaaS-based solution provider which assists retailers to ease out their complex business operations. The company's Vin eRetail solution is designed for multichannel collaboration. The software provides detailed real-time insights about inventory across different store formats including online and warehouses, allowing retailers to make intelligent fulfilment decisions and thus increase customer satisfaction and loyalty for the brand.
"Retailers are selling through different channels like retail stores, marketplaces or own web shops. It's often difficult for a retailer to manage inventory through all these different sales channels, especially to manage visibility across these channels. This lack of visibility leads to over-stocking or under-stocking, high costs, low profits and unsatisfied customers," said Amit Kulshrestha, Chief Product Officer, Vinculum Solutions Pvt. Ltd.
Vinculum's order and inventory management solution provides a real-time view of inventory across all channels in a single dashboard. Real-time inventory status allows them to make better decisions vis-a-vis inventory purchase and allocation for real-time stock adjustment, thus, giving retailers a balanced inventory.
The advanced inventory and order routing engine of the software helps to balance the inventory through automatic management and updating of inventory stock across all channels thus reducing stockouts and overstocks. The centralised inventory management system keeps track of the inventory as the products are sold and restocked across all multiple locations and channels.
Retailers get a very brief and bifurcated view of the inventory as it divides the view into stock in hand, available inventory, committed inventory against orders, picked inventory and shipped inventory for complete visibility. The software also classifies inventory based on normal SKU, bundled SKU, style variant, etc. An automated inventory replenishment system continuously analyses the sales to plan and alert the restocking of the products.
Vin eRetail supports hand-held devices for scanning and can handle multiple barcodes for a single item. It generates barcode labels and barcode scanning of products to ease out the operation of keeping a count of the inventory. This makes the process much faster and reduces the error chances against the manual system. It can support multiple barcodes for a single SKU and can perform barcode scanning, lot no. scanning and LPN (License Plate Number) scanning. It also provides unique serial number barcoding and tracking for each product present for an SKU.
The software also performs several other inbound functions like procurement, inbound into the warehouse (against a PO, advanced shipping note, vendor, stock transfer order or return), quality check and putting away to racking locations. The system can perform purchase order management and send automated PO mailers to the seller. It also allows managing the shipment before it arrives at the warehouse through Advanced Shipping Note (ASN) Management. It even eases out customer returns, quality check and defective inventory segregation. This also ensures clear visibility through PO, GRN reports and management reporting.
Besides, it offers several outbound functions like multiple flows for the sales order, stock transfer and vendor returns so that the business selects the flow most suited for their needs. Users can either scan the items, do single click shipment or upload excel as well.
The company recently made installations for a leading e-commerce brand 'Nykaa'. The brand needed a system that has the capability of a multi-company, multi-warehouse drop shipment and logistics integration. The installation of Vin eRetail supported its order management system that increased its split shipment by 15-20 per cent (Y-o-Y); the warehouse management system helped in multi-location order fulfilment. "Nykaa has witnessed a growth of 350 per cent, and from this year onwards, we have plans to grow by another 300 per cent. With Vin eRetail integrating our online and offline space and providing omnichannel experience, it has been very easy. What we like is the agility that they bring with them to develop future technology," said Nihir Parikh, Chief Business Officer, Nykaa.
Retailers selling through multiple sales channels such as retail stores, marketplaces or own web shops at the same time find it difficult to manage inventory visibility across these channels. Lack of inventory visibility leads to over-stocking/under-stocking, high costs, low profits and unsatisfied customers.
Vinculum's order and inventory management solution provides a real-time view of inventory across all channels in a single dashboard. Real-time inventory status allows them to make better decisions vis-a-vis inventory purchase and allocation for real-time stock adjustment, thus, balanced inventory.
"Our solution Vin eRetail has a powerful layer of 150+ ready product integrations with global sales channels (online marketplaces and retailers), 3PLs and ready plugins for front-end platforms, ERPs and financial software. This helps retailers to scale faster across the globe," claimed Amit. Other customer credentials include RedTape, VLCC, Bata, Fabindia and Manyavar to name a few.
"With the advancement in data analytics, data has become the most important driving factor in today's retail world. Retailers collect a lot of information on a daily basis, either through the point of sales system or via endless aisle applications kept in the store. Retailers can use this data to analyse consumer behaviour inside the store, buying pattern, product sales velocity, seasonality and demand fluctuations. With advance association rule mining, retailers can take suitable product bundling decision, price adjustment and store-specific promotions to tailor product as per the customer demographics and spending limit."
Uniware: Unicommerce
Unicommerce, headquartered in Gurgaon, is one of the leading global E-commerce supply chain solution providers. The company solutions meet the need of manufacturers, wholesalers, distributors, retail chains, individual stores and e-commerce sellers and help them automate their supply chain operations for online and offline business helping them sell more. The solution also connects sellers with multiple marketplaces and allows to manage order and inventory all through a single panel.
The expanding number of selling channels for the retailers created a need for a better system that would ease out product handling for them. Realising the need the company came up with Uniware, a smart inventory management software that automates all the orders and inventory across the different channels of selling.
The software is designed to update inventory, track stock-out and provide a centralised management of inventory across 45+ marketplace and carts. It provides quick integration of the online and offline inventory ensuring right inventory volume across all the channels. It further includes vendor management, a centralised login to manage all the marketplace from a single panel.
The solution supports barcode scanning of the products so that any new arrival of the products can be easily updated just by scanning. The results are then updated and can be viewed on a single dashboard that provides details of each product in the warehouse. Moreover, all the stock data from multiple warehouse can be viewed in a single panel which is stored in a systematic manner. This allows the retailers to have a single view of the inventory in their warehouse on the screen of their system, assisting them to have a better hold on the product availability and replenishment needs. All of this assisting the retailer to have full control over their inventory across different channels saving huge amount of time, reduced efforts and errors, increased revenue and greater customer satisfaction.
Furthermore, in case of any update in the inventory across any channel, the system provides real-time updates thus ensuring that the right data is reflected in the systems. This is possible through the automatic stock synchronisation feature of the solution that effectively manages and matches the orders from a channel and routes, updates, replenishes the stock uninterrupted. All of this is done within no time thus bridging the stock levels and hence engaging the customers continuously. This feature further allows the retailers to analyse product performance and forecasting demands of the products thus meeting the customers' demand seamlessly with better accuracy.
Replenishing the stock involves time, from placing an order to manufacturing, packing, shipping and then finally arriving at the retail stores. Though many of us know that the process being done manually is an old thing, it has been replaced by modern technologies that allow predicting the need of replenishment and thus saving the time. One of the special features that the Uniware solution has is easy stock management that ensures that there is no old, dead and damaged inventory that may otherwise hold the cost. Moreover, it also allows a feature for vendor management, where the retailers can give filtered access to the vendors to manage and access inventory and update stock level and price along with tracking any new and pending purchase orders.
Moreover, the software facilitates smooth order processing and return management. As the system is barcoding enabled, it allows easy capturing of details regarding the product and order. Any return from the customers is also quickly updated in the system and in the inventory thus reflecting the actual stock that the retailer inventory has. Also, it helps in easy locating and dispatching of the orders making it a smooth and systematical journey. All this helps utilising the warehouse space in a better and more productive way.
The solution through its capabilities can help the retailers focus and meet their business goals. The solution provides synchronisation of the business process which is what the platform is built on. The implementation of software will further assist the retailers with automating orders and inventory management system leading to significant rise in sales, accurate inventory visibility, cutting extra (overhead) cost, no 'out of stock', decline in order returns and cancellation and enhanced efficiency.
A few of the leading companies who have implemented the technology are TCNS (Owner of brands – Aurelia, W, Wisful), Being Human, Forever New, House Of Anita Dongre, Tata CliQ.