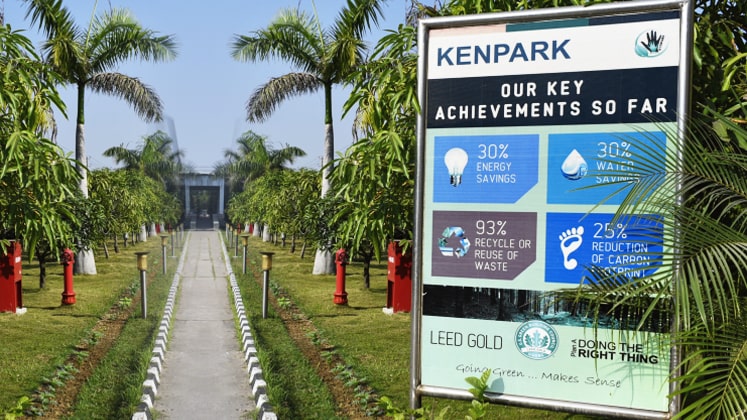 Kenpark and Regency (Bangladesh operations of Sri Lanka-based Hirdaramani Group) has come up with its 2019 Sustainability Report.
The report covers sustainability strategies, challenges, activities, goals and performance from 1 January 2018 to 30 June 2019. Besides, the report also presents company's impressive achievements and the targets it has set for 2022. Covering all aspects of being sustainable, the report shows how the company is moving forward by being truly sustainable.
Kenpark and Regency has been at the forefront of Bangladesh's apparel industry for over 30 years. It has over 26,000 employees and 12,700 machines in 8 state-of-the-art sewing plants and 5 laundry facilities. With a turnover of around US $ 400 million, its Bangladesh operations are capable of producing 4.5 million apparels per month.
Overall, the Hirdaramani Group is a global enterprise spanning more than 55,000 associates in 6 countries covering industries like apparel, renewable energy, leisure, retail, IT and financial services.
Its apparel operations in Sri Lanka implemented ISO 14064 standards and reached net-zero status for greenhouse gas emissions from use of energy. The Group is planning the same in Bangladesh. It is pertinent to mention here that in 2019, it achieved net-zero status for GHG emissions from energy across all its units in Sri Lanka.
Certified by LEED, its Bangladesh facilities meet the requirements of green building and its operations are guided by ISO 26000. This year, one of its facilities succeeded in obtaining the LEED Platinum Certificate – the US Green Building Council's highest rating. Besides, the company also received the Sustainability Award from Sainsbury's at Asia Vendor Conference in 2019.
Under the able leadership of Ajith De Silva, Managing Director/CEO, the company in Bangladesh manufactures a variety of products that include casual to formal trousers, schoolwear and activewear. And that's not all! Its list of clients includes top global brands and retailers across the globe like Uniqlo, Levi's, M&S, Carrefour and many more.
Progress and Target All figures in %
| | | |
| --- | --- | --- |
| Segment | Current Status | 2022 Goal |
| Energy reduction | 24 | 40 |
| Carbon emission reduction | 30 | 50 |
| Sustainable chemicals | 70 | 100 |
| Sustainable sourcing | 30 | 50 |
| Water conservation | 32 | 40 |
| Wastewater reused in process | 80-85 | 100 |
| Higg Index score | 80 | 85 |
The company has invested heavily in the latest technology and recycles 100 per cent of the washing effluents to minimise the use of this valuable resource. It has further plans to invest in the renewable energy sector in Bangladesh to offset the energy emissions from its units.
Women Welfare
With the HERproject (Health Enables Returns), the company supported it workers and achieved
31% increase in maternal health
49% improvement in nutrition
12% increase in use of condoms
Interesting indeed! 
The company sends plastics like thread cones and plastic drums back to its suppliers so that they can be reused.
Besides, it provides 5 scholarships to workers to study at the Asian University for Women on a yearly basis.